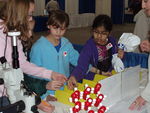 The CRISPEY program is intended for teachers and/or after school programs to get involved with CRISP either by visiting Yale or SCSU, or having CRISP representatives visit their classrooms. This page is designed to promote events that are organized by CRISP and those we collaborate with. The CRISPEY program offers many activities and events throughout the year that reach out to young students primarily in the New Haven area. Students gain an increased awareness of the importance of Materials Science in their everyday lives through classroom presentations, laboratory demonstrations, laboratory open house events, New Haven Science Fair mentorship, and exciting hands-on workshops. A common goal throughout all of these programs is to make science come alive through real life applications. These educational activities are designed to increase interest and diversity in science and engineering.
Join us select Saturdays to celebrate the amazing world of science. This award-winning lecture series features scientists whose passion for their work inspires us all. Each event involves a lecture by a Yale professor and engaging science demonstrations/games run by Yale college students. Science on Saturdays provides an opportunity for Yale scientists and residents of New Haven and beyond to come together over a shared sense of wonder. Past topics have included "Why Birds Are Dinosaurs," "Viruses: The Good, the Bad and the Ugly," The Universe in Your Hands," and "Your DNA: Sense or Nonsense?" for more information visit The Yale outreach page.
Open to the Public
For more information please visit Science on Saturdays
New Haven Family Science Nights
Family Science Night (FSN) is one part of the New Haven Science Fair Program. It is sponsored by the New Haven Science Fair Steering Committee. FSNs take place in the evenings at K-8th grade schools in New Haven during the months of November – March. About 10 schools per year are involved, and different schools are chosen every year so that all schools have an equal chance to host an event. Volunteers guide 20-30 families with children in grades 3-5 through easy, fun experiments, while speaking with them about problem solving using the scientific method: question, hypothesis, experiment, results, and conclusions. The aim of these nights is to enrich the science education of New Haven children, and also to excite them about science and help prepare them to present a project at the New Haven Public School Science Fair, which takes place in May, at Yale. FSNs usually last about 2 hours, and usually start around 5-6PM.
Available to students at participating New Haven schools
For more info on the New Haven Science Fair please visit NHPS
The New Haven Science Fair Program works with children and teachers from PreK-12, to help them carry out investigative hands-on science fair projects, in order to promote skills in critical thinking, scientific process and communication. This approach has now become part of the New Haven science curriculum. The Program is focused on making learning exciting and allowing the natural curiosity of young people to inquire about the world around them. The discipline of the scientific method is used to help in the process of answering questions the curiosity raises. The hands-on aspect of the approach keeps it interesting and fulfilling.
The New Haven Science Fair Program is dedicated to improve the quality of education, particularly science and math education in the New Haven Public schools by:
    Providing a sense of excitement related to learning using hands-on science
    Helping students develop skills in critical thinking and communications
    Promoting scientific literacy; and
    Increasing the number of students taking science and math subjects in high school, and entering the fields of mathematics and science in    post-secondary education
This year's Science Fair will take place May 12-14, 2014 at University Commons, Yale University.
Monday, May 12, 2014 - 7:30am-4pm: Project drop off. 4-8pm: Preliminary Judging.
Tuesday, May 13, 2014 - 9am-1:00pm: Final Judging. 1-6pm: Public Viewing.
Wednesday, May 14, 2014 - 9am-9pm: Project pick up and Public Viewing. 6:30pm-8:30pm: Awards Ceremony, Sheffield-Sterling-Strathcona Hall, Yale University
For more information please visit www.nhsciencefair.org
CRISP & Yale's Pathways to Science Fall 2014 Public Lecture
Check back to find out who will be presenting at this years Fall Public Lecture!
Open to the Public