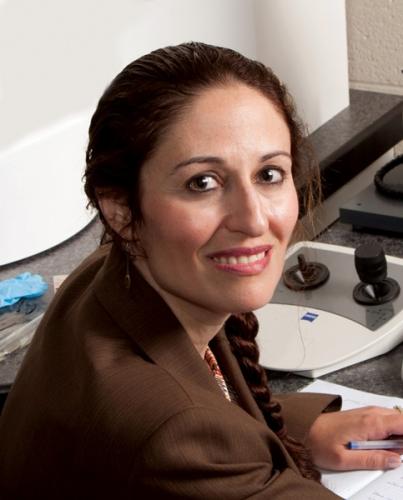 Materials and Manufacturing Week
PRESS RELEASE April 24, 2014
NEW HAVEN - Christine C. Broadbridge, professor and chairperson of physics at Southern Connecticut State University, has been named Connecticut Materials & Manufacturing Professional of the Year.
The award has been presented 11 times in the 37 years since Materials and Manufacturing Week was established by the Southern Connecticut chapter of ASM, the materials science and engineering society. Since 2008, the New Haven Manufacturers Association (NHMA) has co-sponsored Materials and Manufacturing Week.
Broadbridge was honored Thursday for multiple contributions to materials science and STEM (science, technology, engineering, math) education. She has opened her materials science laboratories up to area manufacturers, works closely with the NHMA Workforce Enhancement Committee, and serves as co-director of the new Materials & Manufacturing Summer Teachers' Institute.
"Christine has played an integral role in establishing and operating the teacher's institute, designed to acquaint science teachers with modern manufacturing and materials engineering methods," says Robert Klancko, co-director of the institute and a long-time board member with both ASM and NHMA. "She understands what manufacturers do and what they need."
Broadbridge also is education director for the Center for Research on Interface Structures and Phenomena, a partnership between Yale University and SCSU funded by the National Science Foundation, and director of the new Connecticut State Colleges and Universities Center for Nanotechnology.
"Much of my career has been about the establishment of collaborative research and education initiatives with the ultimate goal of an enhanced workforce," Broadbridge says. "I believe that my vision is very well aligned with the mission of NHMA and, in particular, the Workforce Enhancement Committee."
Thirty-seven area teachers attended last year's inaugural Materials & Manufacturing Summer Teachers' Institute at SCSU, where they met with industry leaders and gained hands-on knowledge about manufacturing through lectures, demonstrations and plant tours. This year's program will take place July 29, 30 and 31.
For more information, call Jerry Clupper, executive director of the NHMA, at (203) 387-5121, or email jerryc@ssicg.com.